Service Overview
The Yacht Devices Cloud Service is intended for users of Yacht Devices' gateways and routers. Supported Devices are currently limited to the NMEA 2000 Wi-Fi Router YDNR-02 (firmware versions 1.20 and higher) and NMEA 2000 Ethernet Gateway YDEN-02 (firmware versions 1.03 and higher). In 2020, we have scheduled adding a logging feature to all Yacht Devices' Wi-Fi products.
Typical Uses
Boat charter companies can use the Yacht Devices Cloud to check vessel data on return to port, e.g. for running aground, exceeding engine RPM limits, etc.
Private boat owners can use the Service to let their family and friends comfortably monitor the boat's position in real time.
Regatta organizers can use the Cloud to establish a convenient overview of a yacht race of any kind. The Service allows combining an unlimited number of participants' boats in a single account for easy viewing from any location and device.
What Is Logging?
The Device is constantly recording your vessel's data into its internal memory. The factory setting for the time interval between log entries is 5 minutes, which allows recording of 42 days of non-stop sailing. When the internal memory is full, the Device begins to overwrite older data with newer data, thus eliminating the need for managing free space.
What Is Logged?
Recent firmware allows you to record position, depth, course, speed and wind data. In further updates, we will add other types of data related to engines, tanks, batteries, etc.
Recorded data can be exported from the Device's internal memory to GPX (GPS track), CSV (spreadsheet) or XML files via the built-in administration Web server (learn more).
How does the Cloud service work?
The Device automatically uploads data to the Yacht Devices Cloud when connected to the Internet. We put no limits on amounts of data and retention time. Moreover, the Service is 100% free. Currently, the Cloud allows you to:
export your data to GPX or CSV files;
display the boat's most recent position on the chart;
share your data to registered users via email, or to anyone via a link.
In the near future, we will introduce such features as reporting and alerting, fleet management, regatta playback, and live steaming. Some of these services may require paid subscription.
Where to Start?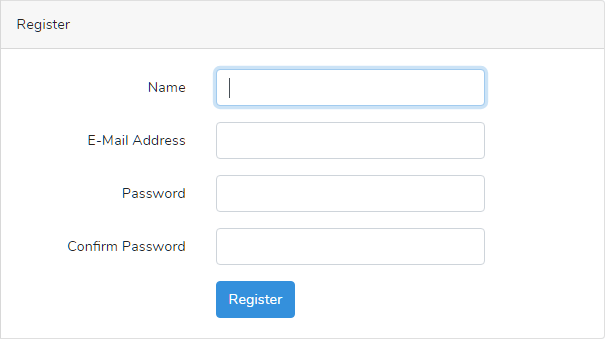 Register online, add your own boat and obtain a boat key. The key is personalized for your Device's serial number. Enter this key into the corresponding field (Logging > Upload > Boat's Key) in the Device's web interface. If your Wi-Fi network is connected to the Internet, the data upload starts immediately. When the Device is online, new portions of data are uploaded every 15 minutes. The time stamp of the most recent upload session is indicated on the Upload pane.
If you monitor your boat at anchor or in a marina, deselect the "Do not save points closer than 5 meters" checkbox, otherwise you will see only the point recorded on arrival (see the Configure Router step-by-step guide).
Entering the Cloud
On first entry, you will see a Demo Boat in your list of vessels. This can help you better understand the interface. You can get rid of it easily: click the pencil icon, a window opens, and click the red "Delete Boat" button on the bottom. In this manner, you can delete your own boat or shared boats as well. Please note that when you delete a boat, all its track data is irreversibly removed.

Adding Boats
To add a boat to the list, click the blue "Add Boat" button. Name the boat and specify a color for its icon. You have to enter the serial number of your device to obtain a personalized key.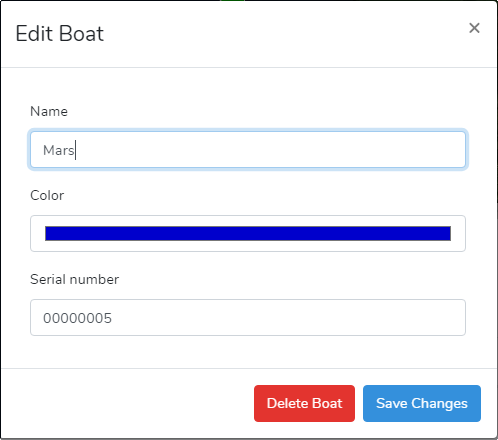 Now the boat appears in the "My Boats" list. Click the arrow button to the left of its name. Locate the Boat Key in the expanded pane. You need to enter it in your Device settings (see the Configure Router section).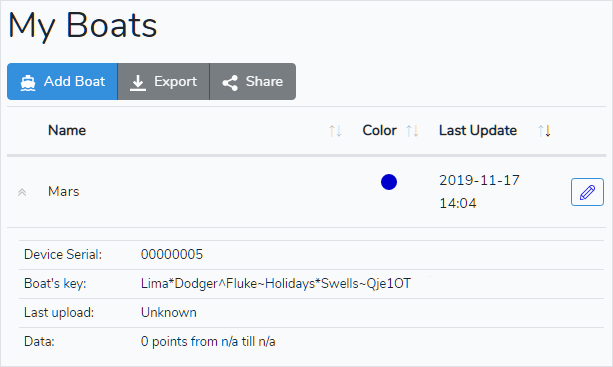 Sharing Your Boat
Select a boat and click the "Share" button. If you share your data with another Yacht Devices Cloud user, you need to know their registration email address. Sharing via URL opens your tracks to any unregistered user who has the link. You may specify a time window to share your data, give your voyage description, and set the "Allow boat re-sharing" flag.
When a boat is re-shared, the time window stays within the limits that you have initially set. Other sharers decide whether to narrow it or keep it the same. Re-sharing may appear particularly useful for a regatta committee to collect all participants' boats in a single account for more convenient monitoring.
Please note that none of your personal data will be shared via this action. Another viewer will be given only the boat name, your description (if specified), and vessel data (position, course, speed, depth, etc.).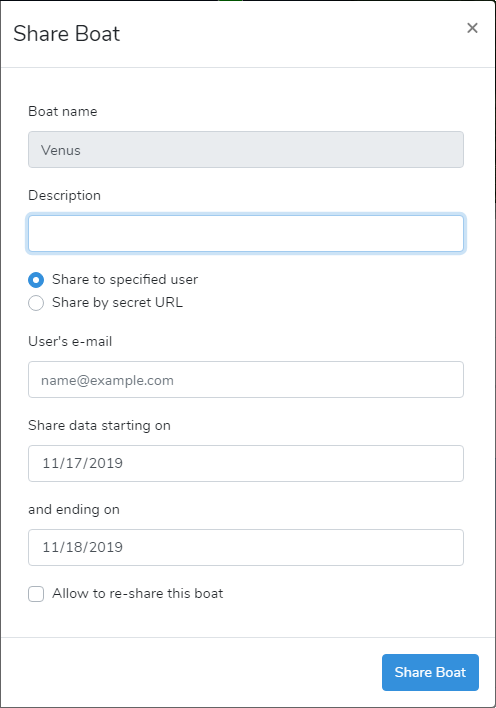 When you share your boat data via URL, the Service creates a dedicated web page accessible to anyone having the link. This way you can share your current position, for instance, with your family and/or friends. If you specify an existing link, your new boat will be added to the existing share(s). This gives your share's recipient the option to monitor multiple boat tracks on a single chart.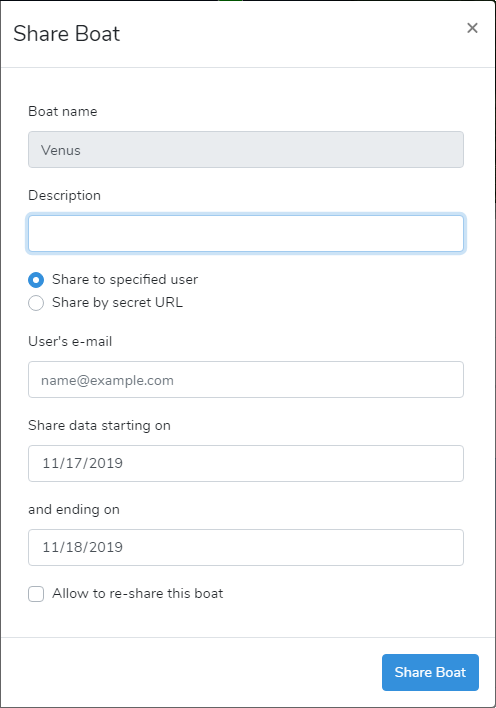 The boats you have shared with other Users appear in the "My Shares" list at the bottom of the page. You can edit text comments and the time window limits in the same manner as for "My Boats" window. When you click the "Save Changes" button, changes are applied to the boat data for all users you share your boat with.
The boats you share with non-users appear on a guest user page with limited functionality. No further sharing is possible via the Cloud. Please note that non-users may share your link with anyone.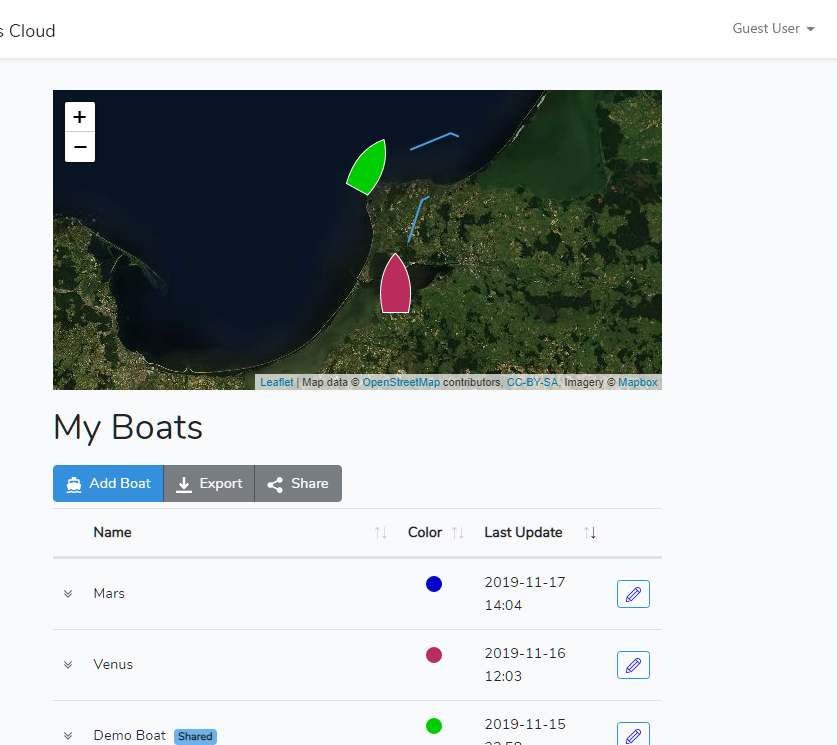 If you delete a share, your boat will disappear from the "My Boats" list of the corresponding user. If you shared your boat via URL, the dedicated web page will be immediately expired. Any existing re-shares will expire as well.
Boats Shared with You
Other Yacht Devices Cloud users are offered to share their boats, too. When they share their vessels with you, their boat's names appear in your "My Boats" list, all marked as "Shared". If a sharer allows re-sharing their boat, you can apply the sharing procedure to it. You may narrow the initial time window, or give your own comments when re-sharing.
Exporting Data
You can download your tracks from the Yacht Devices Cloud by clicking the "Export" button.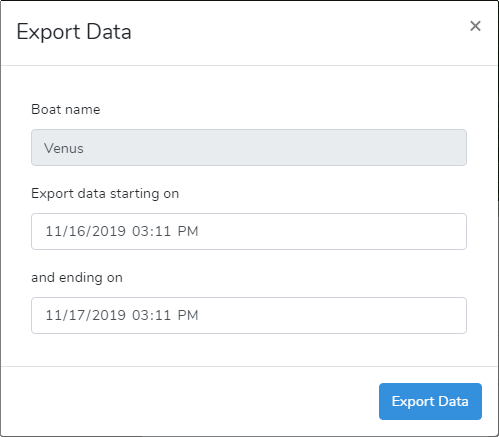 After you set the time interval for the exporting data, another window pops up. You have to specify the file format (GPX or CSV) as well as some file-specific parameters. .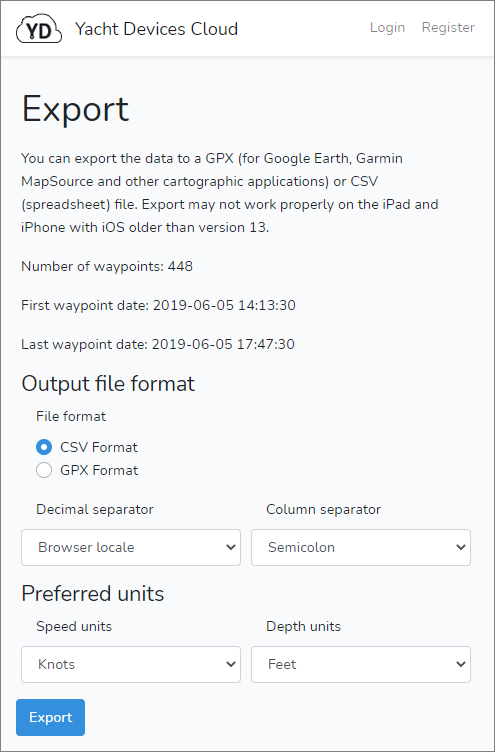 GPX format is commonly used in cartographic applications, such as Google Earth or Garmin MapSource. Please note that GPX does not support environmental data, but they may appear (or not) as text comments to track/waypoints, depending on the particular application. If you want your GPX file to be displayed on an MFD or a chartplotter, we recommend that you select the "Garmin XML Schema" option.
If You Sell Your Device
You have to de-activate your boat's key. To do so, alter your Device's serial number in the "Edit Boat" window, and click the blue "Save Changes" button. If you still have access to your Device's web interface, click the "Clear All Data" button on the Logging page. You can also perform a hardware reset before you sell the Device (refer to the User Manual for details).